May 8, 2012
Big, BIG day here at the stunt factory, friends!  A couple of lovely gals with a couple of lovely blogs are hosting a cooking challenge and I've thrown my hat into the ring!  Julie from White Lights on Wednesday and Jen from Four Marrs and One Venus devised this fantastic competition – think "Iron Chef", but with way less dramatic music.  It's called Get Your Chef On and the secret ingredient:  LEMONS!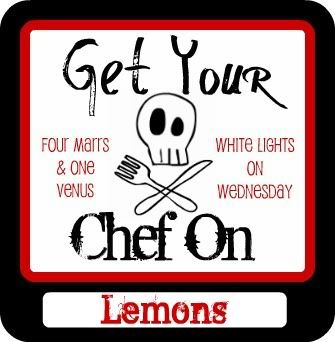 ******
I am looney for lemons – a lemon zest zealot, if you will.  No matter the food, sweet or savory, I can not resist it.  I just had to give this cooking challenge a try.
Lemons are so fresh and delightful, they always feel like Spring to me.  It takes a while for Spring to actually show up in Seattle, but when it does, it is so fantastic.  We take our pale legs out of our rain boots and trot them down to the farmer's market for some of the season's first produce.
For this Get Your Chef On challenge, I wanted to make something that incorporated all the flavors of Spring.  Something crisp and light and SIMPLE, because you don't want to be slaving away over a hot stove in Spring, right?  You want to be outside sipping Pinot Grigio and eating something delicious.  Am I right?
Here's what I came up with:
******
Spring Herb Gemelli with Lemon, Asparagus and Crispy Garbanzos
Serves 4 to 6
1-2 Tbsp olive oil
1 can garbanzo beans, drained and rinsed
2 pounds asparagus, tough ends removed and sliced diagonally into 2 inch chunks
Zest of 1 large lemon
1 Tbsp thyme, chopped
1 Tbsp parsley, chopped
1 Tbsp chives, chopped
1 pound gemelli
salt and pepper
Heat a large pot of water for the pasta.  Meanwhile, heat olive oil in a pan over medium-high heat.  Add the garbanzo beans along with a couple pinches of salt and sautee until they are golden brown and crispy, about 4 minutes.
When the water boils, salt it.  Add the asparagus and cook it until partially tender 3-4 minutes.  Scoop out the asparagus from the boiling water and add it to the pan with the garbanzos.  Reduce the heat to low and add the lemon zest and thyme.
Cook the pasta, then add it to the garbanzos and asparagus .  Add the parsley and chives and a splash more olive oil if desired.  Add salt and pepper to taste.
Garnish with some parsley and a lemon slice.
******
******
Make sure to check out all the other lemon recipes over at the Get Your Chef on Challenge.  Get inspired to create something fresh and delicious!
Pin It
You may also like:
6 Responses to "Spring Herb Gemelli with Lemon, Asparagus and Crispy Garbanzos"